Old Town Albuquerque is a magnet for international visitors, offering a melting pot of contemporary and traditional arts and an introduction to the unique iconography of New Mexico. The blackbird is one such icon. Symbolizing the mystery and mayhem of life, the blackbird is depicted in the work of many local artists. Here, at the Blackbird Coffeehouse in Old Town, this iconic and welcoming bird opens conversations that lead to friendships across cultural boundaries.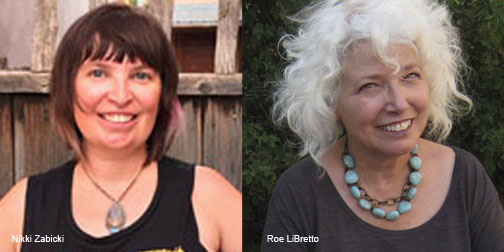 Lead artist Nikki Zabicki is a native New Mexican artist and the maker of handmade gifts, most notably hand-painted belt buckles, Day of the Dead paintings, and hand painted jewelry. She is the owner/operator of Nikki Zabicki – the SHOP in Old Town Albuquerque. Her distinctive drawing style is complimented in her painting by her use of bold outlines, strong color, and rhythmic patterning. She has completed several murals including those for the interiors of Toad Road men's clothing and Left Turn Distillery in Albuquerque. Nikki's work, which is collected internationally, can be seen at her shop and on her website: www.nikkizabicki.com.

Supporting artist Roe LiBretto (at right) creates internationally collected allegorical paintings in her Albuquerque studio. Her experience in project management has made her an asset in a variety of collaborative projects, including art installations funded by the New York City Cultural Council, and the Massachusetts State Council on the Arts. Roe was designated a 2018 Local Treasure by the Albuquerque Art Business Association for her work fostering the creative community. Her paintings are represented locally by Ghostwolf Gallery in Old Town and can be seen on her website: www.roelibrettofineart.com.